Clean Pores, Remove Dead Skin & Remove Wrinkles by Tightening Skin
Radiant skin is always in — no matter your style. An Innovations facial treatment will give you glowing results, purify your skin and allow you to see a difference in your overall appearance.  Whether it's sun damage repair, anti-aging, skin tightening, acne scaring, or just a need for a relaxing facial, let our Licensed Estheticians design a custom facial your skin.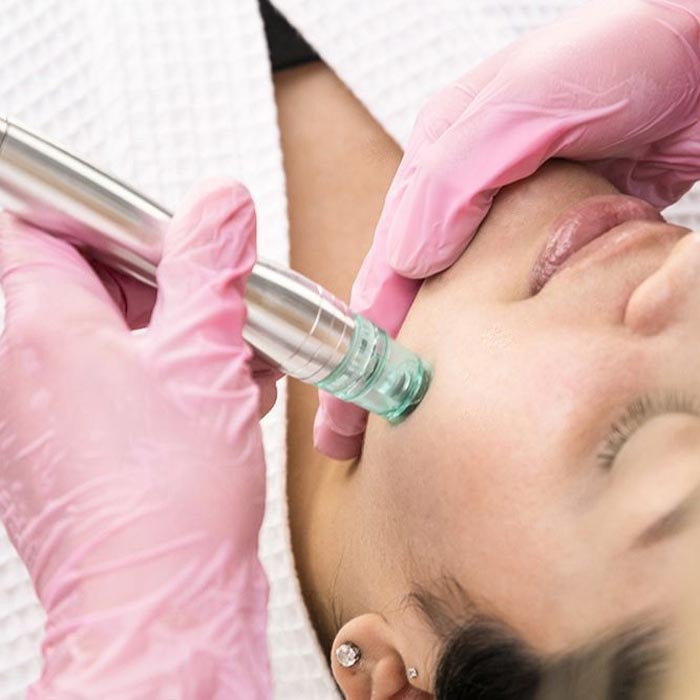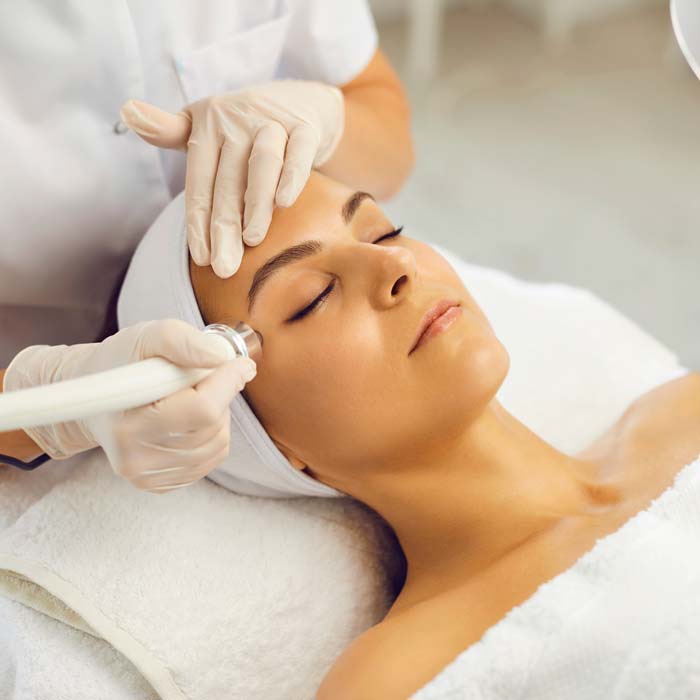 This treatment is more of a maintenance facial for in between full facials to have the in between extractions, follow up on product use affects, and increase the longevity of a full facials benefits.

A terrific way to introduce proper skin care to our young clients up to age 17, by education them on appropriate skin care techniques to maintain a clearer, healthier complexion. It includes deep pore cleansing, exfoliation, and treatment masque. Our estheticians will provide a customized home care regime and product starter kit to maximize the facial's benefits.

Sometimes, you just want to close your eyes and drift while having your face pampered. A typical classic facial provides deep cleansing, extractions, a head and neck massage, and...zzz. The goal is to wake up looking—and feeling—rested and refreshed.

Customized facials are tailored to meet your skin care needs, and more. Whether you need exfoliation, acne treatment, moisturization, deep cleansing or a combination of these, a personalized treatment can address these issues for all skin types. With the help our staff, you'll float out the door fresh-faced and revitalized!

Just like nature, our skin changes with the rhythms of the seasons. It reacts to the changing humidity levels, UV rays, wind, cold, and heat. Although it is highly recommended to get a facial monthly, we recommend getting inserting one seasonal facial every 3 months. Consult with your SkinCare Professional for us to guide your skin through the seasonal transition (types of seasonal facials) and to ensure that you are using the proper seasonal homecare products.

This Facial attacks signs of aging on all fronts: cleansing, resurfacing, brightening (enzymes), and hydrating. Book this one about a week before a big event, since skin can flake and peel depending on the strength of the enzyme. And be extra diligent about wearing SPF every day—skin can be especially photo sensitive.

The ultrasonic facial is a noninvasive medical procedure that aims to give the skin a tighter, younger-looking appearance. It uses a technology known as high-intensity focused ultrasound (HIFU). The inaudible, high-energy ultrasound waves penetrate into the deep layers of the skin, heating the tissues. This creates a controlled micro-injury which stimulates the body's natural healing mechanisms to ramp up collagen production plumping and tightening the skin.
A Hydrofacial is a patented skin treatment available in medical spas and dermatology offices. It's also sometimes called "hydrodermabrasion" because it involves microdermabrasion-like exfoliation paired with hydrating serums. Known for its three-step process, the Hydrofacial works to deep-clean, exfoliate, and hydrate your skin. This professional procedure may help treat a variety of skin conditions, including acne, dryness, and wrinkles. The noninvasive procedure is similar in principle to a regular facial you might get from a spa but is said to provide more dramatic results. This is achieved by a mechanized wand used on your skin to deeply clean and exfoliate while delivering serums customized to your skin type.

Microdermabrasion Treatment

$129

Microdermabrasion treatments use a minimally abrasive instrument to gently sand your skin, removing the thicker, uneven outer layer, and has many benefits.This type of skin rejuvenation is used to treat light scarring, discoloration, sun damage and stretch marks. What microdermabrasion can do; Improve age spots and blackheads, Improve hyperpigmentation (patches of darkened skin), exfoliate your skin, resulting in a refreshed appearance, lessen the appearance of stretch marks, reduce fine lines and wrinkles, reduce or eliminate enlarged pores, treat acne and the scars left by acne. Microdermabrasion helps to thicken your collagen, which results in a younger looking complexion. Collagen is a protein in your skin which is abundant when you're a child and makes skin appear taut and smooth. Collagen production declines as we age, resulting in looser, uneven skin.

Radiofrequency (RF) therapy, also called radiofrequency skin tightening, is a nonsurgical method of tightening your skin. The procedure involves using energy waves to heat the deep layer of your skin known as your dermis. This heat stimulates the production of collagen. Collagen is the most common protein in your body. It creates the framework of your skin and gives your skin its firmness. As you age, your cells produce less collagen, which leads to sagging skin and wrinkles.

Chemical Peel

Priced upon consultation

Our Innovations Chemical Peel is ideal for skin that needs refinement to minimize the appearance of fine lines, fade unwanted pigmentation, smooth rough texture, and aid in clearing acne. It combines a classic facial with a combination of hydroxy acids to help rid the skin of superficial dead skin cells in a safe and controlled in-spa treatment. This treatment achieves optimum results when done in a series. Your Innovations esthetician will help you choose between a Glycolic, Lactic, TCA, or Salycylic acid peel to best suit your skin care needs and goals.