Need a mood-booster? We have just the thing. Give your body and mind the relaxation it needs with an "ahh-mazing" massage at Innovations Spa! Whether your visit is for sore muscles or stress relief, our licensed and nationally certified massage therapists have the perfect massage technique for your needs. 
Looking for a massage gift? Our Couples Massages are a great wedding gift.  And for the new Mom's the Maternity Massage targets all those aches and pains that come with pregnancy.
Looking to make a day of your spa visit? Take a look at our Spa Packages.
Conveniently located just off Route 101A in Merrimack NH, serving Nashua, Bedford, Amherst, Merrimack, Hollis, Manchester and the surrounding Southern NH communities.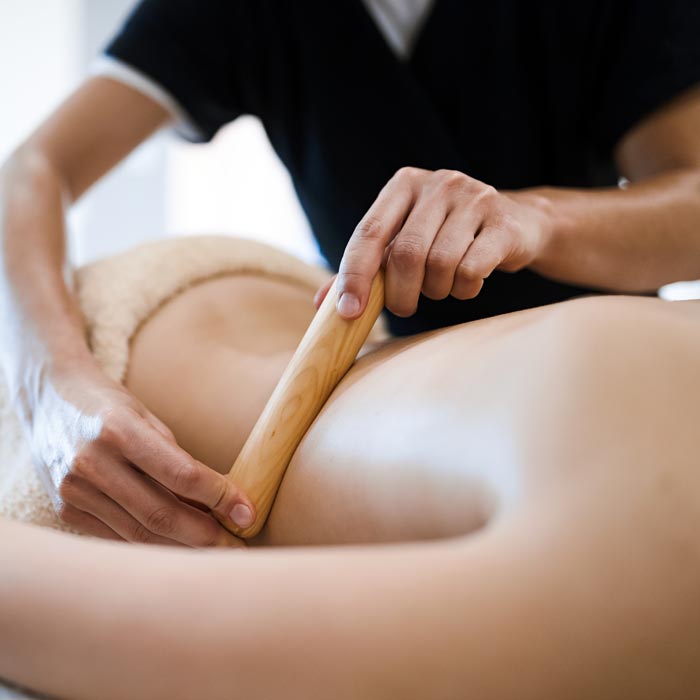 Deep tissue massage is a massage technique that's mainly used to treat musculoskeletal issues, such as strains and sports injuries. It involves applying sustained pressure using slow, deep strokes to target the inner layers of your muscles and connective tissues. It may also promote faster healing by increasing blood flow and reducing inflammation. This technique tends to be prescribed more frequently for therapeutic results vs relaxation. 50 min.

During a hot stone massage, the techniques of a regular massage are applied. However, the therapist also works with hot stones that are placed on specific parts of the body. The stones are smooth and flat and usually made of the volcanic rock type called basalt. These particular stones are chosen because they retain heat. The stones used for a hot stone massage are placed in hot water to warm up before being applied. They are then placed onto specific areas of the body, such as: hold the stones in their hands and use them to massage with. This allows the therapist to get deeper into the muscles without more pressure, helping their client to relax yet further. 60 min.

Bamboo massage therapy is essentially the same as deep tissue massage or Swedish massage. However, rather than the therapist simply using their hands to warm the muscles and reduce pain in the ligaments and joints, the therapist uses a roll of heated bamboo. The heated bamboo is kneaded into the tissue just as the therapist would use their fingers. Yet the bamboo allows the therapist to knead deeper and firmer than they would be able to with only their hands. The length and width of the bamboo used can change depending on the detail necessary for accurate gliding strokes. 60 min.

Dynamic Cupping Massage

$102

Cupping is an ancient form of massage therapy which decompresses soft tissues using vacuum suction, unlike other forms of massage that compresses soft tissues. During cupping, the cup gently sucks to your skin and lifts underlying soft tissue into the cup.
Cupping is very relaxing and generally not painful. The sensation that is experienced is a pulling of the skin as the cup is moved in a rolling fashion. Redness or a feeling of warmth is usually experienced after the release of the cup due to increase blood flow to the area.
Almost anyone can benefit from cupping. It is used to treat lack of mobility, tight muscles, scars and many diagnoses like headaches, tendinitis, bursitis, plantar fasciitis, fibromyalgia, and release of trigger points.
60 Min
An abbreviated version of the Classic Massage focusing primarily on the back, neck and shoulders. 25min

The technique aims to promote relaxation by releasing muscle tension. Swedish massage is gentler than deep tissue massage and better suited for people interested in relaxation and tension relief. 50 min

A couple's massage is just like any other massage service, but you and your partner receive the massage at the same time, on separate tables, and by two different massage therapists. The typical technique offered is a "Classic Massage" however, upgrading to a deep tissue couples massage is of course an option. Please inquire at the time of scheduling.
50 min

Maternity massages can help to relieve aches in your back and neck, and address leg cramps. Fewer aches and pains can lead to a better night's sleep. Maternity massages can also improve circulation, help reduce nervous tension, and help relieve depression or anxiety. Remember to speak with your OBGYN first to decide if a maternity massage is right for you. 50 min.

Maternity Massage Package

$335

5 wonderful 50 min. Maternity Massages for a savings of $60!
Feel Good
Deep Tissue, Hot Stone, Bamboo, Couples, Pre-natal
Massage at Innovations Spa
Our expert massage team will do wonders to your body. Relax and relieve muscle tension and stress with a relaxing or therapeutic massage.
228 Naticook Road | Merrimack, NH | 603 880-7499