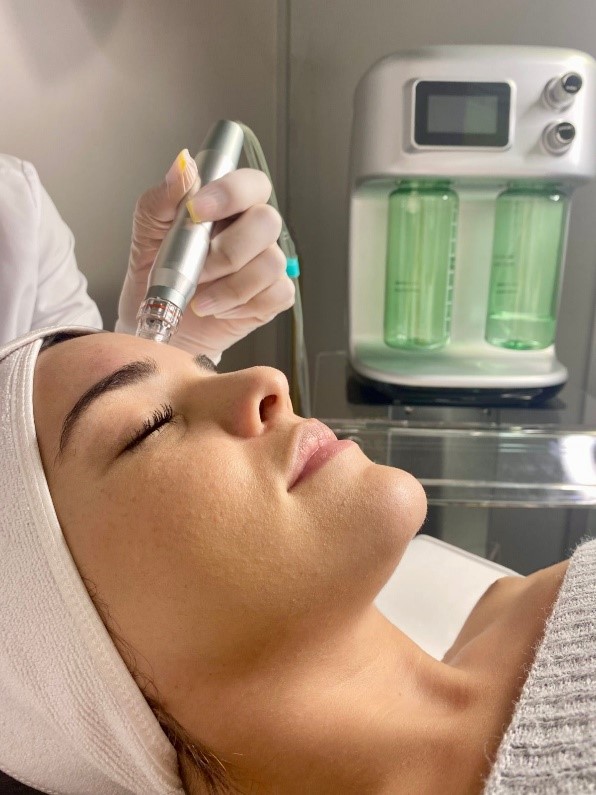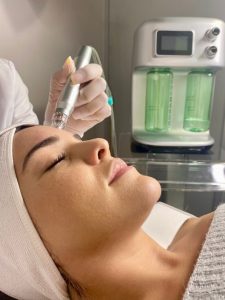 What is a Hydrofacial?
This New Facial Treatment is the Most Popular Facial at Innovations and for good reason
For those still unfamiliar with a Hydro-Facial, here's the scoop: It's a Clinical-grade hydro-dermabrasion device that delivers a three-step regimen.
Cleansing – a deep facial cleansing removing dead skin cells
Exfoliating – A mixture of skin-safe acids are applied to break up all of the dirt, oils, blackheads, and anything else that shouldn't be there and then are vacuumed out.
Infusing — Your skin is then infused with serums formulated for your specific skin-type and needs, which hydrates and nourishes your face.
Wait? Hydro-dermabrasion? Yes. Rather than blasting the skin with an abrasive, like a typical traditional dermabrasion, this gentler approach vacuums out pores while simultaneously pushing in powerful actives, which moisturize, brighten, plump, and protect. The machine's handpiece holds specialized treatment tips equipped with "a vortex like technology" In addition to the three steps, targeted add-ons, or boosters, which take aim at unique skin concerns, like brown spots or fine lines can be added as needed.
HydroFacials are Recommended For
It appeals to nearly all ages, complexions, and concerns.
This is a terrific treatment for teenagers with acne
Adults with pimples, wrinkles, and hyperpigmentation
Older patients with sun damage
Great facial for general skin health and maintenance.
Wrinkle reduction & management
Very porous skin
Do not get a HydroFacial if you have a rash, sun-burn, open wounds, or irritations on your face.
Do Hydrofacials hurt? Is recovery time needed?
Extractions without side effects
How many times have you told an esthetician to forgo the extractions for fear of redness or breakouts the next day or because it can be uncomfortable? The Hydro-Facial has a strict no-torment policy. In fact, guests compare the sensation to a light facial massage. By combining vortex pressure with a customized clog-purging cocktail of products/boosters, our guests can observe visible results immediately following the service. Side effects: Mild temporary Redness followed by; Bright! Smooth! Glowing! Skin.
While somewhat similar to micro-needling, HydroFacials are more tolerable and less intimidating.


Can I get a hydrofacial if I've had Botox or other facial treatments?
It fits perfectly with other facial procedures
Yes! A Hydro-facial does play well with others. You can receive most Injectables, Radio Frequency Skin Tightening, LED therapy and more after a Hydro-Facial session.
It's very customizable
The boosters mentioned above, are just one way technicians can customize this treatment to really focus on the guest skin care priorities. Ex. Following a hydro-facial your skin care professional could add a brief LED light therapy session to build collagen-red light or a calming-blue light treatment following an acne treatment.
How long until I see results from a Hydrofacial?
Immediate results in 30 minutes with no downtime
Most guests will notice an almost immediate improvement in their complexion after treatment, however, the final results of a Hydro-Facial will take about 3 – 5 days to become visible.
How long do hydrofacials last?
Because of the great results and ease of treatment, many opt to get hydrofacials about once a month. The longevity of the results does vary from person to person, so while some prefer a 30 day retreatment, others may be able to go longer. Your esthetician will discuss your needs, goals to determine the most appropriate treatment schedule for you.
Additionally, good at-home skin care and healthy lifestyle choices will help keeping your skin looking great.
How much do HydroFacials Cost?
At Innovations Spa in Merrimack, NH a HydroFacial costs $179 as of 3/31/2022. View our Facial Menu here. The national price range for a HydroFacial treatment is typically in the $150-$300 range.
Well? What are you waiting for? Call and schedule yours today!